Le Mans 2015 - Ayse's Story
Page 8 - Thursday 11th June
Another Great Evening as Qualifying is Done and Dusted
As we were just in the car and heading out of Parking Blanc to join what seemed to be pretty heavy traffic behind the grandstands, ready for our journey out to Mulsanne Corner to watch the third and final qualifying session, we heard on Radio Le Mans that as the second session had been curtailed, the final session would be starting early at 9.30! By the time we arrived in the car park and made the trek from there towards Mulsanne Corner, the cars were already on the circuit again and after pausing for a video greeting to send home and a little more video (with apologies for the very poor quality!), we hurried down to the banking to join the large crowd that had collected there at about 9.50.
By the time we reached 11 pm, we realised that we were all getting pretty hungry, so it was time to head down from the bank to the eaterie situated very handily at the bottom of the slope to tuck into another merguez sandwich accompanied by the obligatory frites.
I spent quite a long time experimenting with photographs this time and for a change I was quite pleased with the end results. Exposure and shutter speeds at night are always pretty hit and miss, but there was quite a bit of light and colour around to be used, and I tried to make the most of it.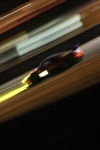 The session wound to a close at midnight with the leading grid positions largely unchanged since the end of the first qualifying session yesterday. We made our way back to the car park, bumping into Tenthers Matthias, Kenn and their friends before leaving the car park for the journey back to the hotel, where we arrived just before 1 am.
It had been a very good day. The rain that had been threatened never arrived - at least not with us - we did see lightning over to the north east as we were watching from the banking. We had been pretty lucky, both spectators and cars avoiding a soaking!
Index
1
2
3
4
5
6
7
8
9
10
11
12
13
14
15
16
17