Le Mans 2015 - Ayse's Story
Page 2 - Sunday 7th June
Onward to Le Mans
Despite turning in quite late I didn't sleep particularly well, waking up at various times during the night. I finally gave up and showered at 7.30 and after a cup of hotel coffee, I got up at 8.00. It was an absolutely beautiful morning, very reminiscent of the same time last year at Argentan. Despite it's location on the outskirts of an industrial estate, the hotel designer had done a decent job, surrounding the hotel with high hedges and plenty of trees, shielding it from the noise of the nearby traffic. In the morning sunshine, it actually looked surprisingly picturesque. Yes, the hotel and the rooms were relatively cheap and cheerful, but a fair bit more than adequate and both James and I felt that it was a good stopping-off point, even though we were by this point very close to Le Mans. One in the notebook then for next year.....
True to form, James took rather longer than I to surface, but by 10.30 we had everything packed up again and set off for the relatively short journey (about 25 miles) to our home for the week on the outskirts of Le Mans. I was as keen as usual to get to our hotel as I knew that if we arrived before the manager left around lunchtime we would be able to leave our bags with him for safe keeping while we went into town, instead of having to leave them in the boot of the car while we were at scrutineering for the rest of the day. In fact, when we arrived just after 11 am the situation was even better as our rooms had already been refettled, enabling us to get straight into them and unpack. This was a real bonus as far as I was concerned as by the time we left to head into town for scrutineering about half an hour later it felt as though we were already 'home' in Le Mans and ready for the events of the week to begin!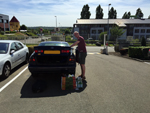 After a little bit of searching the side streets we found our favoured car park, less than 10 minutes walk from the Place de la République. There was never a moment's doubt about what we were going to do first. Having had no breakfast we made a bee-line for the Restaurant Galand for what had rapidly become our standard 'scrutineering lunch' of croque madame with sautéd potatoes and salad. Never has a toasted ham and cheese sandwich with a friend egg on top tasted so good!
It is now accepted as being virtually inevitable that each year the first people we meet in town are our friends Walter and Ton and 2015 was no exception as they (with their friend Kurt) sneaked up behind James to surprise him while we were having lunch.
Having eaten splendidly, we made a quick walk around the square to check out the stalls and then left the square itself to head to the area where the cars arrive from the circuit on flat-beds and in trucks. Over the last few years we've spent more and more time in this area, which is usually less jam-packed than the main scrutineering area and for our money gives you a much better chance of seeing the cars reasonably close up than where it seems everyone else wants to be! Being Sunday it was busy of course, with many locals turning out for the event. We watched the arrival amongst others of Strakka, and Rebellion as well as witnessing the arrival in force of both Audi and Nissan. We saw the Audis being removed from their large truck at around 1.30 and a short while later we got our first glimpse in the flesh of the new Nissans. We had seen the mock-ups at Silverstone for the first WEC round in April of course but this was the first time we had the chance to see them in the form in which they would race. I would describe them as looking weirdly interesting but definitely very different! I freely admit I was looking forward to seeing them out on the track on Wednesday.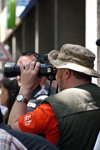 After an entertaining - and very hot - afternoon, during which we also bumped into Eric and his brother Stéphane, we decided to leave at about 5.30, to head back to the hotel for a shower and a change of clothes before heading out to what has become another of our favourite food haunts, Del Arte, for an evening meal with Walter, Ton and Kurt. After last year's record-breaking pizza overindulgences, it just had to be Pizza Maroccos all round followed by an excellent crème brulée.
Late nights don't tend to be the order of the day for us as we like to get a decent amount of shuteye in over the days leading up to the race so we were back to the hotel straight after our meal, hoping for a good night's sleep this time.
Index
1
2
3
4
5
6
7
8
9
10
11
12
13
14
15
16
17