Le Mans 2015 - Ayse's Story
Page 16 - Monday 15th June
A Whole Year To Go.....
Normally I wake up naturally around 6 am each day, the best part of 40 years of waking for work at that time conditions you to carry on doing the same when you don't have to, but on this Monday morning I slept solidly through to 8 am and after 10 hours sleep I felt pretty good (although my weary legs would take some time to recover...). The Monday is very much 'the day after the week before' and I don't mind admitting that it comes quite hard to pack up all the clothes and gear in the knowledge that Le Mans is over for another year.
My bags were packed by 9.30 and at 10.15 Sean arrived to pick Allon up for his trip back to the ferry. It had been great to have Allon back on board for a second year - he fitted into our little group particularly well.
We set off back to Auchan for one last time to buy flowers and chocolates for our excellent hosts at the hotel and with our farewells said for another year, which of course involved numerous 'see you next year' statements thrown in for good measure. We were then into the cars at 12.30 for the drive back to Caen for the 4.30 ferry.
It was a good journey. The traffic was light all the way and we arrived in Caen at about 2.15 pm, leaving us plenty of time to grab a very nice meal at the Le Goeland restaurant. An excellent omelette and frites, washed down with local cider (which I decided to indulge in, with no ill effects for once!).
Soon it was time to head into the queue for the ferry. James and I were on very quickly but Tony and Tim had a longer wait, which we observed from the deck up top on the boat. There seemed to be a massive queue of cars waiting to get onto this one ferry, far more than looked possible, but inevitably, they all seemed to get on OK. We set sail for Portsmouth at 4.45, just 15 minutes late.
Like all return journeys seem to be, this one was pretty unremarkable, involving some food and wandering around the 'duty-free' and it wasn't long before the coast came into view and we were soon pulling into the harbour ready to disembark.
There are few things that I find more demoralising than trying to get back into your own country after a week or so away. We moved off the ferry itself very quickly but 45 minutes later we were still sitting on the ramp. We finally got through border security after about an hour. Don't get me wrong, I'm wholly in favour of border controls and security, but year after year we have to go through this rigmarole - there has to be a better way, particularly when the ferry schedules bring two or even three ferries in at pretty much the same time.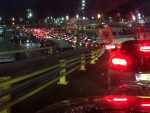 James kindly took me to the Rownhams services on the M27 as usual, where I was collected by my James. We arrived home on the dot of midnight.
The End.
Index
1
2
3
4
5
6
7
8
9
10
11
12
13
14
15
16
17