Le Mans 2015 - Ayse's Story
Page 1 - Saturday 6th June
My 30th 'Anniversary' - the Celebrations Start Here
So it's time to start writing the 2015 'story'. As I begin, it is astonishingly 17 weeks since I left for France. It seems like just a few days ago. Those who have been here before know that I don't exactly rush to get my story and photos up. It's something that keeps me going through those winter months when next year's Le Mans seems a very long way away. But it's quite unusual for me to take this long to get started!
The preamble to this year's Le Mans trip is fairly typical; an incredibly hard year of work had left me exhausted as we arrived at the week before the trip (as exhausted as I am as I write this in October having had no 'summer' holiday yet!). Having just turned 58 and finding myself working harder than I've ever done before, I was definitely in need of a break. I was also 'home alone' again as Jayne had gone away with her friend Cathy, this time however was just for a few days in Cornwall, rather than a month in the States! The 2015 trip was to be my sixth with James and Tony after 24 years with the Tourists. I had seen them both (and Allon) a few weeks earlier at the opening FIA WEC round at Silverstone where we enjoyed a terrific weekend and I was delighted to encounter perfectly decent April weather in the UK, compared to the horrendous weather experienced by the sportscar diehards at Silverstone in 2014 (when I was recuperating at home from my operation).
Our plans for the trip were very similar to last year. Travelling over on the Saturday afternoon (the week before the race), we had decided to stop for the night some way along the journey from Caen to Le Mans and then arrive in Le Mans on the Sunday morning, in good time for the start of the scrutineering in the town. But as usual, I'm getting ahead of myself...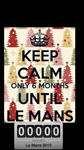 As per normal, I had taken the Friday off and by the end of the day I was about 95% packed. I just had to get a few odds and ends on Saturday morning before loading up son James' car for the trip to Portsmouth, leaving home just before noon.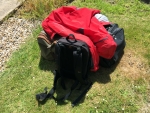 It was a beautifully sunny day which put me in good cheer for the prospects for the week and a bit ahead. We arrived at the ferry terminal at 12.50, only to find the other James, my chauffeur, already in situ. He had given himself a bit more time this year as there was a slight niggle with the trusty Toyota which he thought we might be plagued with during the week. However there was only one slight hiccup getting off the ferry and she was totally well behaved thereafter!
We had our usual short waits in the 'outer' and 'inner' rows but we onto the ferry pretty quickly, finding our cabin and heading up to watch Portsmouth disappear into the distance as we set off bang on time at 14.45. After an excellent ham baguette for lunch we stopped off in our cabin for a bit of rest before having steak and chips, followed by a thoroughly excellent crème caramel for dinner.
By 9.15 (French time now) we were arriving in Caen (Ouistreham) and 25 minutes later we were off and on the road to our overnight stop. Those who read last year's story will know that we broke the journey a year ago at Argentan, but this year we decided to go further, all the way to Alencon, just an hour or so from Le Mans. We arrived at the Campanile in Alencon at about 11 pm and tried to get our keys from the machine. Lo and behold it not only failed to recognise James' booking number but it took a total disinterest in his credit card as well....
Eventually we managed to contact a member of staff who got us into our rooms. Despite being a very standard chain hotel, situated on the edge of the industrial estate, it was really rather pleasant, although the controls for the heater in the bathroom were a complete mystery to me! I finally got off to sleep around midnight.
Index
1
2
3
4
5
6
7
8
9
10
11
12
13
14
15
16
17