Le Mans 2015 - Ayse's Story
Page 13 - Sunday 13th June
There are 364 Other Nights You Can Sleep Through
(So Why Would Anyone Choose To Sleep Through This One?!)
We remained at Tertre Rouge until just after 1 am and then walked back to the grandstand, taking up our seats at the very top row of T17. We even managed to 'smuggle' Allon in as well! Feeling rather peckish by now, James and I indulged in some food from the cafe just inside the stand. We had what was curiously described as a 'croustipoulet', a bread and chicken affair which I have to say was mildly unpleasant - not to be tried again!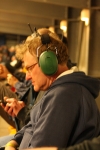 After watching for a while, all of us were still deeply into the race, headphones now welded firmly to our heads to keep abreast of the action, but as time was moving on we quit the grandstand at about 2.15 am as the road behind the stand was pretty clear by that time. Following our customary habit we drove out to Arnage first, arriving there at about 2.50. The warmth of the evening had given away to quite a chill in the early morning, the balmy nights that I remember from the past seem to be so much rarer these days. So before heading into the enclosure it was on with the thermal underwear, an extra pair of socks, a thicker jumper and my big red insulated coat (yes the one I so cleverly left in the hotel this time last year!). I also had my Senna woolly hat, I was taking no chances this year after freezing my extremities off last year! We took our folding chairs with us, leaving Allon in the car to get some sleep.
We 'made camp' on the bank on the run towards Arnage corner so that we also had a decent view of the big screen there and settled down to watch the race and see in the dawn. As has become noticeable over the last few years, even in the early hours of the morning, there were still a lot of people still watching the race. The action itself was very much nip and tuck between Porsche and Audi, neither holding that much of an advantage over the other for several hours.
It wasn't until after I returned home from Le Mans and was looking at the photographs I'd taken that I realised I hadn't taken a single photograph while we were at Arnage, only some video footage. I don't recall making any conscious decision not to get the camera out, although, as I've said countless times before, still photography is hard enough from this location on the track and photography at night is almost pointless as a spectator. You can't use flash here (unlike Tertre Rouge where you can get away with it) as you just end up with a succession of brightly-lit photographs of fencing and because it remains one of the darkest places on the circuit that is accessible to the paying punters, low light and slow shutter speed shots are largely doomed to failure. In actual fact, I didn't take much video footage there either, just two relatively short snippets of rather grainy video, with my camcorder hunting for focus much of the time. But I was happy enough. I was enjoying the race, listening solidly to Radio Le Mans by now, at the best time of the 24 Hours, in one of my favourite spots. I was in my reasonably comfy chair, wrapped up pretty warm in all my layers, remembering just how insufferably cold I'd been here a year ago!
There is however one specific memory that I'll take with me from Arnage in 2015 and it will stay with me for a long time, much as I've always remembered that first experience of watching the cars on the Mulsanne Straight over the fence at the Restaurant des 24 Heures (or it might have been Hunaudières...) on my first trip back in 1986. It was the same in both race and qualifying - the utterly insane acceleration of the Audis and Porsches away from Arnage corner. They were of course running significantly faster in 2015 than ever before, regularly turning laps in the 3:19's and 20's (and less), a good 4-5 seconds faster than last year and way under last year's pole time, but the acceleration out of the corner, the slowest on the circuit, was mind-blowing. Standing right opposite the apex of the corner and watching the cars blast away down towards the Porsche Curves, they were like rocket-ships, the acceleration was incredible. I don't recall ever being so taken with cars accelerating at such a stupendous rate of knots before, it was mesmerising to watch and I feel privileged to have had the chance to do so....
We stayed at Arnage until sunrise after another all too short Le Mans night, before heading off to the car to make our way out to Mulsanne Corner.
Index
1
2
3
4
5
6
7
8
9
10
11
12
13
14
15
16
17