Le Mans 2015 - Ayse's Story
Page 10 - Saturday 13th June
Race Day - Bloody Porsche, Tenthers and T17
Saturday. Race day. It was incredible to think that in just a few hours I would have been in France for a whole week already, and the race hadn't even started yet! As I've noted in these pages before (ad nauseam, sorry....), race day sees the excitement build to the maximum but in effect, it's also the start of the countdown to the end of the Le Mans trip. Still, it has to be a glass half full rather than half empty situation. (Actually, mostly full really....). During the race this year Paul Truswell spoke on Radio Le Mans of adding extra hours to the race to extend the night and I know how he felt. If I could have added an extra day at this point to enjoy even more of the atmosphere and build up to this great event, I surely would have!
Having got as decent early night I woke up at 6 am, but naturally thought better of getting up straight away, but by 7 I'd had enough sleep and I got myself up and dressed and started to make the more detailed preparations this time with everything I was going to need for the next 30 hours, or thereabouts. This included my big warm coat, hat and gloves. I was determined to stay warm during the night this year...
We set off for the circuit just after 10, conscious of warnings from our local friends that it was likely to be busy around the circuit, particularly as the French President was going to be there to wave the tricolore at the start this year. But as it so often happens, the traffic seemed no worse than usual and we arrived in Parking Blanc at 10.55.
You'll recall that I talked on the 'Friday page' about the high level of 'parking paranoia' that was in evidence that day, well guess what? We arrived at our ticketed spot to find a Porsche team bus dumped in our parking spot. There wasn't a car park marshal anywhere in sight patrolling or checking tickets. The bus had a ticket displayed on the screen but it was miles away from where it was supposed to be parked.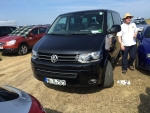 It may not seem much it really bugs me that an organisation that can be downright anal about parking and other things when it wants to be can be so flippant about it when it actually matters. No-one needed to give a monkeys about how people had parked in the rain on Friday but there were marshals all over the place. Today, when cars needed to be parked where they were supposed to be, there was no visible evidence of any steps being taken to make sure people parked where they were supposed to be.
Fortunately, we've come to know the main Parking Blanc marshal over the years and we walked back to enlist his assistance. He sorted us out a space at the back of the first row, but by the time all of this stupidity had been resolved it was 11.30 and we needed to get into the circuit to the annual Ten Tenths meeting - and we hadn't let down the tyres on Porsche's 'cuckoo' van yet......

We went through the underpass into the inside of the circuit and finally reached the Ten Tenths meeting place just before midday, by which time the majority of the Tenthers and their friends were already present. Pascal was of course setting up his trusty table and soon everyone was tucking into cheeses of all kinds, foie gras, chutneys and of course an array of beers, wines and spirits, some of the 'rocket fuel' variety. For a number of years now this alcohol-themed buffet has both bemused and confused me, as a significant alcohol intake just before the start of the 24 Hours doesn't strike me as an ideal recipe for surviving the race without sleeping through large parts of it, but more so because over the last 2-3 years I've become almost entirely tee-total, not because I have a problem with alcohol, but because alcohol has a problem with me, in that it's a major trigger for migraines. I've never been a heavy drinker if truth be told, but I've always enjoyed a beer, a G&T or, more particularly, a calvados, but I've reached the point now where I'd much rather drink water or soft drinks than endure an almost immediate migraine which might last for several hours, or worse still, two or three days.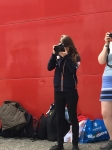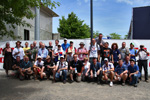 With thanks to Bernard Brothier

So I tend not to indulge very much at the meetings these days but instead wander around taking photos of those present. This year I won't try and list who was there, on the basis that there are names I don't know, some I fear I've forgotten and in any event, if you were there, you'll know that without me having to remind you - unless of course you really did overindulge on the rocket fuel!
When one or two people started to drift away from the meeting we knew it was time to organise the annual team photograph and unusually this year, although I took some shots of the preparation for this, I didn't take a full group photo. Our stalwart French Tenther and excellent photographer Bernard managed to persuade a passer-by to do the honours for us and it is therefore his group shot that appears here. Over the last 2-3 years the meeting has started to finish later and later and, highly enjoyable though it was, I was keen to get to my seat in T17 in good time to be able to soak up some of the pre-race atmosphere. So we set off back to the stands and by 1.30 we were in our seats munching the obligatory baguettes.
Index
1
2
3
4
5
6
7
8
9
10
11
12
13
14
15
16
17