Le Mans 1996 - Ayse's Story
Page 9 - Sunday 16th June - Mulsanne, Le Cheval Blanc and Blisters!
It was at this still reasonably early hour that I was surprised to meet up with the rest of the team, much earlier than I had expected. I can't now recall where our intended rendezvous point was (although it is almost always either the Grand Marnier crepe stall or the nearby champagne stall!), but it seems that they were as eager as I was to get back to the circuit and grab a cup of coffee. In fact, the whole team wasn't there, as Nick had decided that a few more hours sleep would be worthwhile, but I was staggered to see Alan up and about at this hour. I can't recall another occasion over the eleven years when he was not asleep at this time, either in a tent or a hotel!
After enjoying our coffee we returned to the cars for the journey out to one of our usual haunts. We normally make the trip out to the restaurants on the Mulsanne during Saturday evening however on this occasion, it was to be a Sunday morning visit. Not surprisingly, there weren't too many people perched on the usual motley collection of garden chairs, furniture lumps of concrete and other items, and we were able to quickly take up good vantage-points to look over the fences. Unfortunately, it wasn't possible (as it had been in 1994), to go through the Restaurant des 24 Heures to watch from the outside of the restaurant. This was well and truly closed off this year (as I suspect it should have been in 1994!). Nevertheless, I was able to take quite a few photographs of the cars as they headed down to the first Mulsanne chicane.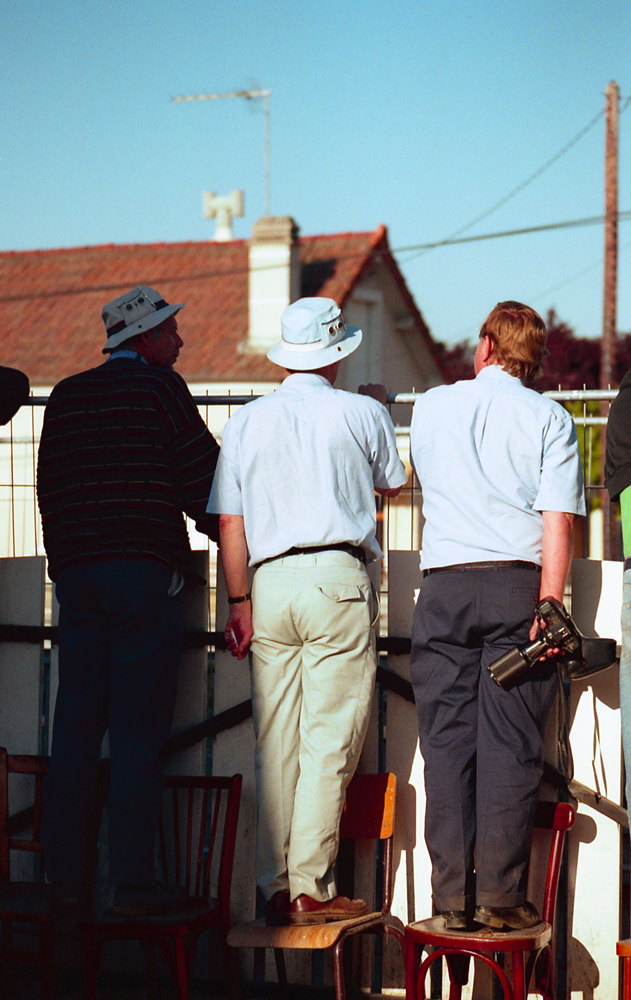 We must have spent the best part of three quarters of an hour here until Ian decided that it was time to head back to Le Grand-Lucé for a spot of breakfast. The journey back took no more than half an hour and before long, I was having my first wash and brush up since Saturday morning and tucking into croissants, fresh-baked bread and the truly remarkable quince jelly that I have spoken about in previous years. In fact, it was while I was at Le Cheval Blanc that I made a couple of disconcerting discoveries. It is my usual practice at this stage of the weekend, having not had the opportunity to change my clothes like the others, to at least give myself a very welcome change of socks! It was when I went to my grip to find a clean pair that I discovered shower gel over my best pair of trousers! Unfortunately, I hadn't secured the lid properly following my bath on Saturday morning, and ever since the contents of the container had been leaking out into my shower bag. Fortunately, although there was a real mess in the bag, very little had escaped into my grip, although that which had was all over my best trousers. I cleaned out what I could, deciding not to do anything more about the situation until we got to the hotel later that evening. The second discovery was a lot more painful. When I peeled off my socks to change them for a fresh pair, I found that I had a couple of blisters on one of my feet. I hadn't realised this until I took my socks off, but, once they came into contact with the air, the blisters really started to smart. My decision to wear a brand new pair of trainers at Le Mans was proving to be an unfortunate one!* I made repairs as best I could, and settled the bill at Le Cheval Blanc to get something else on the slate to help with the accountancy situation on the journey home. It was then time to pile into the cars again to head back to the circuit.

(*2020 edit - a mistake I never made again!)
1
01
02
03
04
05
06
07
08
09
10
11
12
13