Unusually for us, we decided to stay in the grandstand to watch the first of the three qualifying sessions for the main event instead of heading out to Arnage. As most would have probably predicted, Porsche were immediately out front in LMP1H, but as we had become Toyota fans to a degree over the years we were encouraged by the fact that their two cars were much closer to the pace this year than last. In GTE it was pretty obvious from the word go that the Fords and the new Ferraris had a massive advantage, the Fords having finally shed their sandbags (as Danny Binks predicted), leaving Porsche, Aston Martin and particularly last year's winners Corvette literally trailing in their wake.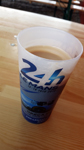 At this stage of proceedings (i.e. when writing the story to accompany the photographs), I always trot out the same old excuses. And I wouldn't want to let the moment pass without carrying on that tradition! Photography for the amateur at night at Le Mans is hard enough as it is, but from this location it is nigh on impossible to get a good shot of the cars on track. And of course I'm shooting with an inexpensive zoom lens wide open, which reduces my chances even further. Because of the height of the debris fencing along the straight, the only chance you really have (even sitting at the very top of the stand as we were on this occasion), is when a gaggle of cars arrives and one or more are overtaking - and therefore taking a line to the right of the track - as they do so. That way, you can possibly just get a shot above the fencing. Of course, I take lots of shots and only the vaguely passable ones make it here, but at least I'm no longer squandering expensive film in this digital age. So I include the shots really as a matter of record, not to garner any artistic plaudits!
It had been a really good afternoon and evening with lots of on-track action to keep us entertained, but in a really relaxed atmosphere. The only disappointment for me was really bad radio reception in the grandstand. I changed the batteries in my radio headphones but it made no difference. As neither Toby nor James were having any problem I was worried that my headphones were giving up the ghost. (Fortunately when I used them on Thursday they were fine - and stayed that way for the weekend - so I guess I must have been sitting in some kind of radio black-spot!).
And now for some video.....
We left the grandstand as the session ended at midnight and were quickly back to the car, sitting (almost) in it's front row position in Parking Blanc which made for a quick getaway. We were back at the hotel by 00:40. A very good day!