So, with Wednesday's six hours of on-track action under our belts we could finally say that the 2016 Le Mans race 'meeting' was now well under way. The Wednesday and Thursday late qualifying sessions always mean late nights to bed but thankfully no great rush to be up and about again the following morning which was just as well for me as I woke up around 8 am with a massive migraine. So it was a case of reaching for the Sumatriptan and hoping for the best. I've suffered from migraines for many years and the tablets generally do the trick although occasionally one will have no effect at all. Fortunately this one did what it was supposed to do and by the time we headed up to the bar for breakfast at 10 I felt a lot better.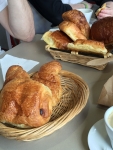 My humour was much enhanced (as always) by the strong coffee and our breakfast pastries. It was while I was there that I took a look in the pharmacy next door. Last year at Le Mans I had a persistently aching leg and after an amusing conversation in the pharmacy at Auchan, I bought some muscular rub. Since then I've always referred to it as my 'dog cream' as its called 'Saint-Bernard'.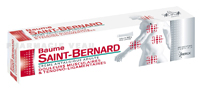 It worked wonders at the time and continued to do so at home for any aches and pains and as I couldn't find it anywhere in the UK, I was determined to buy another tube while I was in France. And as I looked through the window of the pharmacy next door to the bar, I could see it sitting on the shelf and went in and made an immediate (and much simpler) purchase! (For what its worth, I thoroughly recommend my 'dog cream' to anyone who suffers muscle aches and pains. Its not hot or cold in it's effect, but after a while, you realise that its working. Even Jayne now swears to it! It seems to be only available in France and you can buy it online, e.g. at Moncoinsante, but the shipping is rather prohibitive....). Free advertisement over - on with the story......

After breakfast we returned to the hotel to await the arrival of the final team member Allon, who was again being delivered into our custody Sean. This was Allon's third year as a member of the team following his return to Le Mans 'duties' after his illness which had kept him away for several years. Sean and Allon (and Sean's friend) duly arrived at about 11.30 and once again he was in luck and could get into his room straight away for a quick wash and brush up before we headed off to the circuit.
One thing that I've not mentioned so far was the weather. After largely decent weather on Wednesday, the rain that had dogged us since our arrival in France was back and by the time we arrived in Parking Blanc it was still raining, not heavily, but enough to require waterproof coats and hats to stay dry.
This was of course Allon's first trip to the circuit in 2016 and he was keen to buy his gifts for his children as soon as possible so we did the traditional visits to the shops under the grandstands, where I picked up a rather nice red Gold Leaf Lotus t-shirt which was heavily discounted. After a good mooch around the shops and stalls I had a baguette for lunch and we walked into the Village to take a look around the 'Americans at Le Mans' exhibition. It was all moderately interesting but I'd seen all of the cars on display before so I only spent about 15 minutes in the exhibition and waited outside for the others to appear. The rain had briefly abated and as is so often the case at this time of the year, when it does, the sun comes out and starts to bake you, requiring the removal of coats and layers.
But it didn't last long and as the rain set in again we made our way back to the grandstand and took up our seats at the top to watch some of the 'Road to Le Mans' qualifying.
In view of the inclement weather, we'd decided earlier to watch the second qualifying session from the grandstand at the Ford Chicane, however we didn't leave the stand again until 6.30 and as I had feared, by the time we got there the grandstand was packed. James, Toby, Allon and I did manage to find four seats together but unfortunately they were in the front row which meant there was absolutely no chance of taking any photographs at all as our view was under the debris fencing. We were also reminded after a relatively short time of how uncomfortable the small backless seats are in that grandstand!
We did soldier on though until the end of the session, which was pretty wet so we were grateful for the cover that the stand provided. Being in the front row, we were probably lucky as well that the wind wasn't blowing the rain towards us! The rain actually got a lot harder and both cars and spectators were splashing around. It turned out that we had been a step behind Tony and the others who had been in T17 earlier in the afternoon before heading out to Mulsanne and then Arnage. We left Parking Blanc immediately after the second qualifying session to news from Tony that he was in the car park at Arnage - in pouring rain.
It took an age to get out of the road behind the grandstands and it was 9.30 before we arrived at Arnage by which time the rain had thankfully stopped, allowing us to indulge in yet more merguez and frites. We met up briefly with Tony, Andrew, John and Paul and then set up for the start of the session in the corner of the enclosure at Arnage which having been cleared of trees was now a much better point at which to photograph from. It was at this time that Toby made what was a rather unfortunate decision to take a trip back to the car.....
The session started and we soon began to hear on Radio Le Mans of torrential rain over the main part of the circuit. Le Mans, being such a large circuit, can have heavy rain at one point while remaining bone dry elsewhere, however it turned out that this weather was heading straight for us. In fact the session was red flagged before the rain hit us, leaving some initial bemusement from the crowd, however when the rain did arrive it absolutely lashed down. Probably the heaviest rain I've experienced at Le Mans since the deluge of 2001. By 10.30 it seemed to James, Allon and I that there was little prospect of anything sensible now happening on track for the rest of the session so we decided enough was enough and made our way back to the car, expecting to meet Toby on his way back to rejoin us. I texted him a couple of times when we realised we must have missed him but I didn't know that he had his phone switched off. Eventually I left James and Allon in the car and went back out into the still pouring rain to try and find him. After about 15 minutes of searching back and forth I finally found him huddled with Tony's crew who were determined to brave it out.
We finally left the Arnage car park just before 11 and arrived back at the hotel at 11.15. As it happens, the session was eventually restarted and I listened to the Radio Le Mans commentary on my iPad in my room. Much as it was a real shame to have to miss the end of the session, I was actually perfectly content on this occasion to be warm and dry! As you can imagine I was buy now chanting prayers to the weather gods that we wouldn't suffer similar weather on race night....
And so ends almost certainly my most miserable day of photography at Le Mans in all my 31 years. Two qualifying sessions with just four photos to show for them. Must do better next time......