It's always good to wake up on the Tuesday at Le Mans in the knowledge that it's a totally free day with no fixed commitments, allowing us to do as much or as little as we like on the last day before the on-track action begins. I was up and showered at much the usual time and we headed up to the Bar Havane for the first time in 2016 for our breakfast of croissants, pain au chocolat and incredibly strong coffee. We had to buy our pastries from the patisserie around the corner but when Madame realised we would be regular breakfast visitors during the week she was quick to offer to get them in for us for the next morning, an offer which we gratefully accepted!
After our breakfast we briefly stopped back at the hotel before jumping in the car again to do our by now traditional (and de rigeur) lap of the circuit (in so far as that's possible). Toby hadn't actually seen it yet and James and I were particularly keen to see the changes made to the road at Arnage and the new spectator bank at Indianapolis.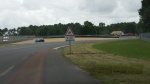 We had a gentle run around, accompanied by some weak sunshine for a change and as planned we stopped right on apex of the Indianapolis left-hander to get out and have a look around. It certainly looked different! The track was exactly the same of course however the public road now turned off of the circuit about half way between that corner and Arnage corner, culminating in a new roundabout to the left, bypassing the Arnage corner and making a small section of what was public road now permanent race track, unused by daily motorists.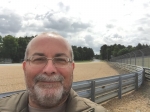 We had a good look around from trackside. The new viewing bank overlooking the run into Indianapolis certainly looked impressive and supported the information we had already received from Ten Tenths own local reporter Batmobile that spectators would be able to see over the fencing, providing another (rare) opportunity for the amateur photographer to shoot fence-less photographs of the cars.
After our recce, we headed back to the car and made our way around to the Porsche Curves where we again stopped under the bridge (with the circuit above us) and walked up to the track to tread the 'hallowed' asphalt'. Apart from being rather fun (even though James and I had done this before), it also gave us the chance to take a look at the new 'SAFER' barrier installed between the track and the concrete wall. We didn't stop for long for fear of finding the car clamped or towed away (!) and we completed our 'lap' driving on around to pause alongside the dual carriageway on the other side of the airport near the Actisud.
One of the things that we had decided to do again this year was a trip to the Le Mans museum. Toby was very keen to see it and James and I hadn't been since 2010 so we parked up just outside Parking Blanc (we weren't allowed to actually go into the field today) and walked back up to the main circuit entrance in what were increasingly windy and wet conditions.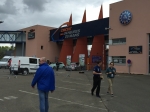 If nothing else, it was good to get inside out of the worsening weather for a while. Even though it was six years since I'd visited the museum (for the first time), little had changed and most of the cars and other exhibits were very familiar. But it was still entertaining and well worth a visit, particularly if you've not been before. James and I finished our wander around after an hour or so, pausing at the end to see the few recent additions, however Toby was determined to get his money's worth and have a really close look at the cars and their engines from every conceivable angle. And to take a horde of photographs of them as well - which is why there are rather more photos in the museum than might otherwise have been the case! In fact, so many, I've put them on a separate page.... (see page 6).
Toby finally dragged himself from the museum and joined James and I in the cafe outside at about 2.30 where we had been trying to get onto the museum's free wifi, with it's extraordinarily long wifi code which we completely failed to commit to memory! We then took a look in the ACO shop where I decided to buy a sticker for my car and a new mouse mat. After waiting about 20 minutes to be served, I almost wished I hadn't!
As we left the museum and headed back to the car, it was clear that the weather had got even worse, very wet and windy. As it was by now around 3.30 and we hadn't eaten since breakfast, we stopped off at Auchan on the way back to the hotel where James and I bought some foie gras each, plus bread and biscuits. Toby had already filled his room with fruit from Auchan. The surprisingly cheap foie gras turned out to be surprisingly good and just enough to stave off the hunger pangs without filling me up too much before dinner in about three hours time!
There had of course been another good reason to get back to the hotel as today being Tuesday was 'Tony's arrival day'. Tony and his 'party' arrived at 6.50 and this year they significantly increased the size of the team! With Tony in the Brera was John and in his Lexus was Andrew, with Paul, all friends of Tony's, some of whom I had met previously on trips to Silverstone. They were all able to get straight into their rooms for a quick turnaround as they were keen to eat.
As this was Tony's first evening there was only one place to go for our meal - Del Arte - to indulge in another Pizza Marocco. The goats cheese starter went down a treat again and on this occasion it was amusing (to me at least) to note that the only two to indulge in a dessert were James and I, who had both stuffed ourselves with foie gras not too long before.... It was a really pleasant meal and a good chance to quickly get to know the new members of the team, bearing in mind that John, Paul and Andrew were making their Le Mans debuts.
After a good evening we were back at the hotel just before 10 pm. Tony and his contingent needed a good night's sleep after their journeys as tomorrow would see the first action on the track, which wouldn't finish until midnight. As for me, it was to be a much later night than expected with Jayne phoning me at 00:45 after coming in following an evening out with her friend Maria. At least I could expect to sleep well after that and with no pressure to rise early in the morning.