I can't honestly say that I slept brilliantly in my bed at the Campanile on Saturday night. I've rarely felt cold in France at night in June (apart from occasions on race night in the last few years which have been bitterly cold), but this night was really quite chilly and although the room had air conditioning with a temperature control which suggested it could also provide heat, no amount of twiddling the knobs seemed to make any difference. As a result I woke up several times during the night and eventually decided that a nice hot shower was the best thing at 8 am. By this time the weather had really closed in and it was raining quite hard which, bearing in mind the rather dismal forecasts we'd seen, came as no great surprise.
There was no need to rush this morning as we were only a relatively short drive from our Le Mans 'residence' and all we needed to do was to get there before Monsieur closed the desk for the morning so we could at least dump our bags. Scrutineering in the town wasn't due to start until 2.30 pm, so there was no pressure on us there either.
All three of us were up and about by 9.45 and having paid our room taxes we were into the car and off on the road a short while later, arriving in those very familiar surroundings on the outskirts of Le Mans about 40 minutes later. As last year, our luck was in again as our three rooms were already available and we were able to get in and stash our gear straight away. Le Mans trips are always full of really pleasurable little repeat moments and finding that I was once again in the same room for the fourth year running was one of those moments. I guess it's probably the same for people who camp at the circuit when they manage to get their favourite pitch in their favourite campsite - for me it just adds to that warm feeling of being back where I just love to be - it brought a real smile to my face.
After half an hour or so all of my clothes and my various bits and pieces were stashed in their usual locations. James and I both remarked later that Madame must have a quite chuckle to herself each year when she cleans our rooms for the first time, as they looked exactly the same as they always look - a place for everything and everything in it's place.
The three of us met up again outside and left the hotel for the journey into town at 11.30, guided expertly by James' satnav to our parking place of choice in the Rue D'Algers, just a few minutes walk from the Place de la République which was again the location for scrutineering this year. Having done a quick lap of the scrutineering area and located Paul Truswell's very own private restaurant, where every chair is reserved for him so he has the maximum choice (!), the lure of the Restaurant Galand was just too great and we took up a table, inevitably meeting Walter, Ton, Kurt and his son almost immediately. For James and I ordering lunch was simplicity itself as, for the first of so many times during the week we amused Toby by ordering what we always order, croque madame, salad and sauté potatoes. Toby on the other hand went off piste straight away with a cheese and ham omelette. The youth of today are too adventurous for their own good! It's one of the ways in which James and I are very alike, whether it is places we like to go to, things we like to do and particularly food and drink, we know what we like and see no reason not to do it again - and sometimes again and again. I rarely have a croque madame anywhere else other than at Le Mans (or Center Parcs!), so when I know that there is a particularly good one on offer, the decision is a very easy one....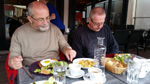 Having had a perfectly splendid, if slightly windy lunch (at at least the rain had stopped for the time being), we walked around to our normal viewing spot just around the corner where the cars arrive in the road behind the scrutineering area. It was at this point that it occurred to me that the Sunday scrutineering crowd seemed smaller than usual. Sunday, being a non-working day for most of the locals normally sees the square and the road behind it packed with people however this year the crowd seemed noticeably smaller than the last few years. The unpredictability of the weather probably had something to do with it, and I've never been there before when we've had a fair bit of rain, but this wouldn't be the only time that James and I commented on the size of the crowd, both in town and at the circuit during the week (despite the statistics that were bandied about later).
It was good as always to see the cars for the first time but as surreal as it always is to see them being pushed from flatbeds and trucks without a single engine being fired up. Toby was into it all from the very start, shooting photos and video, but itching to hear those engines! Among the leading lights to go through past us during the afternoon were Porsche and Toyota. After seeing them (and Audi) at Silverstone a few weeks before I was still rather disappointed that the liveries of the cars were so similar and frankly rather unimaginative, but the LMP1s remained very firmly the focus of my attention. It was also at this point that I realised I would have an added benefit this year by way of Toby's presence. As I've said he was snapping away with both his phone camera and his GoPro which meant that I now have an additional photo and video source to use for my story! This was certainly good for today as I'd made a conscious decision to leave my SLR and camera bag at the hotel and travel light with just my iPhone for company. It wasn't a great decision as although it has a very good camera, the greater it is zoomed, the poorer the quality of the pictures. My SLR would definitely join me for tomorrow's second day of scrutineering. We saw a few of the Porsche drivers, including Mark Webber, who appeared to have missed his lift back to the circuit and was running for the bus....
After the Toyotas were loaded back onto their trucks, I took my last photo at 5.45 and we headed back to the car, arriving back at the hotel at 6.10 pm. After a wash and brush up we went out to eat and of course this had to be at Del Arte, where I indulged in my favourite goat's cheese starter, followed by my first Pizza Marocco of the week. Toby though declined to followed our lead, once again bemused at our insistence on having the same meal there as we always have, including the crême brulée which brought it to a close.
In accordance with our customary game plan for the week we were back to base early after our excellent meal, in good time to watch a spot of football and then get an early night.
Click the link below to see my videos from scrutineering on both Sunday and Monday.