Having packed all of my stuff the day before, I was pretty much ready to go the next morning. Toby, on the other hand, had his packing still to do. He had originally said that he intended to travel light, saying that he only needed one rucksack for the ten days in France, but when he saw my two holdalls, camera bag and other assorted bits and pieces I think he realised that it's always better to take too much rather than too little!
We had used the 2.45 pm crossing to Caen on several occasions. It gives a decent amount of time for last-minute packing on Saturday morning and the 5 hour and 45 minute crossing gets to France by 9.30 pm, leaving plenty of time to get to our overnight stop for a reasonable night's sleep. Stopping at Alenšon had proved a success last year (despite the struggle to get our room keys!), so we had decided to do the same this year.
With Toby and I all packed and ready, once again my other son James did the taxi honours and took us to the Portsmouth ferry terminal where we unloaded our bags and waited for 'Le Mans James' to arrive. This year we were ringing the changes on transport as James' dependable old Toyota Camry had been finally retired prior to Silverstone (as indeed had my Toyota Auris in favour of a Skoda Octavia VRS), and had been replaced with a venerable (but highly specced and incredibly low mileage) Renault Laguna 3 litre V6. It was very quiet at the terminal as relatively few Le Mans fans travel over this early in the weekend it looked as though the ferry would be very lightly filled as usual. We were entertained however by what seemed to be a tatty car with a mad family on board that kept driving towards the lines of queued cars with a woman standing up with her head and torso through the sunroof, shouting and shrieking while waving either a flag or perhaps some clothing. Bizarre. Then would then drive back sedately to near where we were waiting, before repeating the same strange behaviour - over and over again. It wasn't until we had moved through passport control into our first queue that we found out that they were filming a scene for the sitcom, 'Not Going Out' (See http://www.portsmouth-port.co.uk/news/lee-mack-not-going-out-at-portsmouth-international-port).
I guess we were waiting for about half an hour before James arrived and we quickly stowed our bags and gear into the Laguna. James had been worrying that the boot was smaller than the Camry's but we got everything in without any problem (although I had to leave the kitchen sink there to collect on the way back....). We quickly checked in and moved into the first of the two queues and about ten minutes later into the second, ready to drive onto the Mont St. Michel. In fact, with so few vehicles to load we were soon onto the ferry and were were already starting a light lunch and coffee by the time the ferry set off, ten minutes early at 14.35. I think the fair thing to say is that we then had a ferry journey. (They're all pretty much the same!). We went to all the shops, spent a while in the sunshine (and wind) on deck,. watched a hovercraft and while Toby went off and read a book he'd bought, James and I watched Wales beat Slovakia in the Euros. It was pleasant enough with none of the rain yet which was predicted to afflict us regularly over the next few days. A little later we sat down and had a meal in the self-service restaurant. I had a passable (but very mild) chilli, which filled a hole, important as we probably wouldn't get to eat again before tomorrow lunchtime.
I've mentioned already the fun and games we had last year at the Campanile in Alenšon and James and I had already spoken on the journey about how easily (or not) it would be this evening to get access to our rooms once we got there. Not long afterwards, James got a call from the hotel! When I realised who it was I had visions of being told that they had no rooms for us, but on the contrary, they were very helpful in that they rang to provide us with a simple code to enter into the automated machine that would give is the key to one of our rooms in which we would then find the key to the other two. James and I agreed that if this worked, we would be very impressed with the service indeed!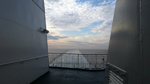 We arrived and docked in Caen at 9.30 and were off the boat in ten minutes to start our journey on a largely deserted autoroute to Alenšon, arriving bang on 11 pm. And the code for the machine worked perfectly as had been explained and we were soon into our rooms for our first night in France.