Le Mans 2014 - Ayse's Story
Page 9 - Thursday
Final Qualifying
It had always been our intention to watch the final qualifying session out at Arnage and when we thought we heard on Radio Le Mans that the second session was ending early and the final session would therefore start early at 9.30, we decided to head back to the car. It was while we were walking back that we realised that although the session had been red-flagged, it had been re-started and the cars were out on track again. By this time we were in the garage blanc and decided to head off to Arnage anyway.
By leaving early, we managed to get to Arnage and park in the closest car park in really good time, sufficient to enable us to indulge in one of Le Mans' best traditions, the sandwich Americaine merguez! Two spicy merguez sausages in a long baguette, smothered with wonderful frites - it's something that just has to be done! We took our 'meals' up onto the banking near the big screen and settled down into our comfy chairs to watch what we hoped would be a truly exciting final qualifying session - Toyota v. Audi v. Porsche!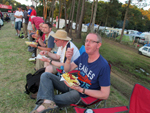 Porsche had already given clear notice of their intention to go for pole during the previous qualifying sessions but then Toyota turned up the wick, with Nakajima notching a 3:21.8, aiming to be the first Japanese driver to take pole at Le Mans. But that wasn't going to be the end of it as we heard that the Porsche drivers were going to give it a real go to net the pole position, meaningless as far as the race is concerned, but worth a fortune to the Porsche PR people....
Things were winding up to a tremendous last half hour when the 'slow zone' was activated following an accident just a hundred yards away from us at Indianapolis. It was interesting to see this new process happening right in front of us, with the cars slowing to 60 kph and then at the end of the slow zone, the drivers would floor the throttle to squirt a further 100 yards to Arnage corner. We expected the session to start again but to everyone's huge disappointment, it was ended at that point, robbing Toyota and Porsche - and more importantly us - of the final no holds barred pole shoot-out - doh!!
From there, having packed up our chairs, it was back to the car for our journey back to the hotel, for supper (for me) of some almond tuiles and cherries, and then to bed....
It was after the event that I discovered how miserable my photographic efforts had been at Arnage. It's a difficult place to shoot from at the best of times, but I can honestly say this was the worst batch I've ever had. Just to explain why the shots that accompany this page are so limited - in both quantity and quality!
Thankfully though, there is video......

Videos 24-30
Index
1
2
3
4
5
6
7
8
9
10
11
12
13
14
15
16
17
18
19