Le Mans 1986 - The Tourists' Story - Page 1
The Beginning of it All
Welcome to the first of my 'story' pages. Although the very early visitors to my fledgling site will have seen these shots before, it seemed logical for me to start with the year that saw my own Le Mans initiation.
"Just stop for a minute everybody, and take a look around you and sniff the air, and just have a feel of this place. It is fantastic isn't it? Particularly now as the lights are down, and night's coming on, and it is just the most wonderful atmosphere in the world. I don't think I would rather be anywhere else, and you can keep Canada, that's for sure!"
"I'll tell you where I would like to be, and that's on the outside of this studio, 'cos I haven't actually seen a car with it's wheels turning so far. But, apart from that, I mean, even sitting in this little white box in the paddock, it's seeping in through the walls, it really is tremendous. There's just nothing else like it, is there?"
"Nothing at all"
"Nothing at all".
The above quote is actually a bit of a cheat, because I took it from the 1988 "Radio Le Mans" video. But if it is a cheat, it's a damn good one as it somehow seems to me to sum up the way that so many of us feel about the Le Mans 24 Hours, why the annual fix of the Le Mans drug is so important.
So how did I come to make that first visit? I had known Ian, our "Tourist-in-Chief" for some years through work. He was by then already a seasoned Le Mans campaigner and it was his invite that set the ball rolling.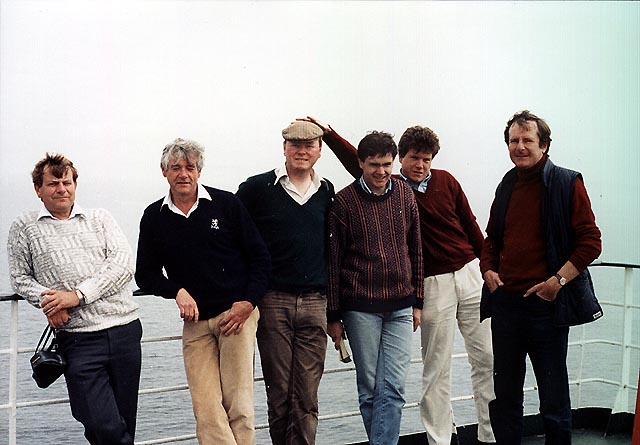 There were 7 of us in the 1986 Le Mans team - see above Ian, Robert (sadly no longer with us), Bruce, John M, John B and on the far right, Alan. We travelled over to Cherbourg from Portsmouth (yes, I'm a "Hampshire Hog!"), staying at a small roadside auberge, Le Relais du Bois Leger near St. Symphorien des Monts on the Friday night. At the time I was still single, living a rather lonely and frugal existence, and the sudden exposure to the gastronomic delights of La Belle France, together with gallons of vin was quite an experience, I can tell you! On Saturday morning we made our way to the circuit, arriving, I guess, at about 1.00 p.m.
Of course, the big attraction in '86 was the return of the works Jaguar team and, having seen a Jaguar win at Silverstone only a few weeks before, I was certainly rooting for them, like all the other Brits at the race. For anyone who has never been to Le Circuit Permanent de la Sarthe, the sights, sounds and smells as you arrive at the circuit and wander around the tribunes and general spectator areas are really something else, from the dodgy-looking fairground rides and stalls, to the frites and the merguez (which I learned to love on my very first trip!), washed down with countless little green bottles of beer, or, if you prefer, a glass (or bottle) or two of champagne!
When it came to the race itself, sadly, the Jaguars didn't last the distance, and the race was overshadowed by the untimely death of Austrian Jo Gartner, who went off the road on the Mulsanne Straight in the early hours of Sunday morning, after what was suspected to be a gearbox failure.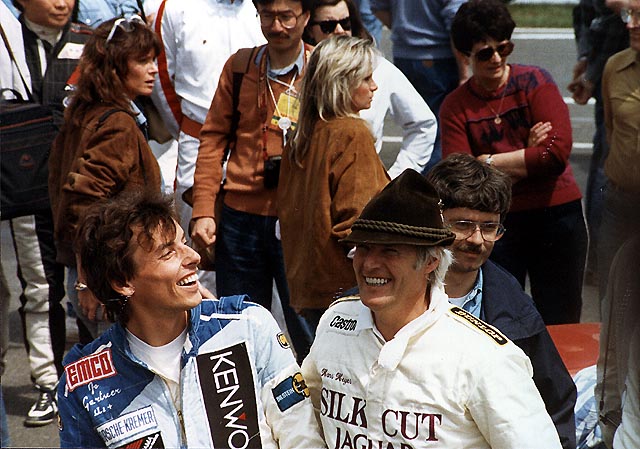 It made the picture I took of Gartner and Hans Heyer in the driver parade all the more poignant, and made me think back to watching Gartner win the Interserie race at Thruxton in a Porsche, only a matter of a few weeks before.
But it was the Porsche of Derek Bell, the late Al Holbert and Hans Stuck which took the spoils, providing Derek with his fourth win in the race.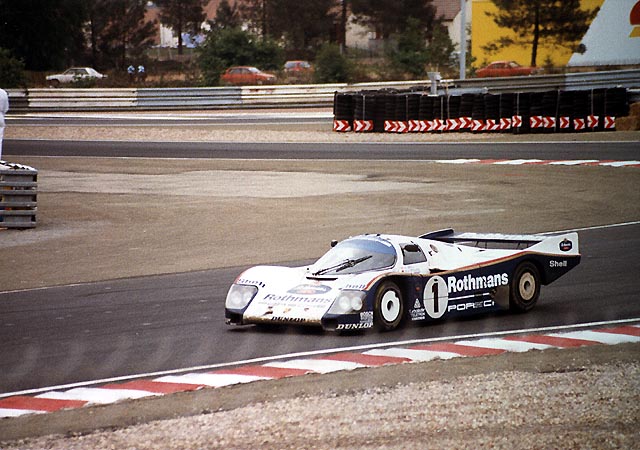 But for me, my lasting impression of Le Mans was very definitely the night. This was my first experience of racing at night, and I was totally enthralled by it - and have been ever since. I was lucky enough to make my first visit to Le Mans with Ian, who already knew the back roads around and about the circuit like the back of his hand, so I had the unmissable opportunity of watching Jaguars, Porsches et al thundering past Le Restaurant de 24 Heures on the Mulsanne Straight in the middle of the night. To anyone who has never been to Le Mans before (or if you have but have never done it), if you do nothing else during the race, get yourself out onto the Mulsanne. I know the straight has been ruined for ever by "those poxy chicanes" (as they were once described by James Weaver!), but it is still one of those essential Le Mans experiences, in my opinion.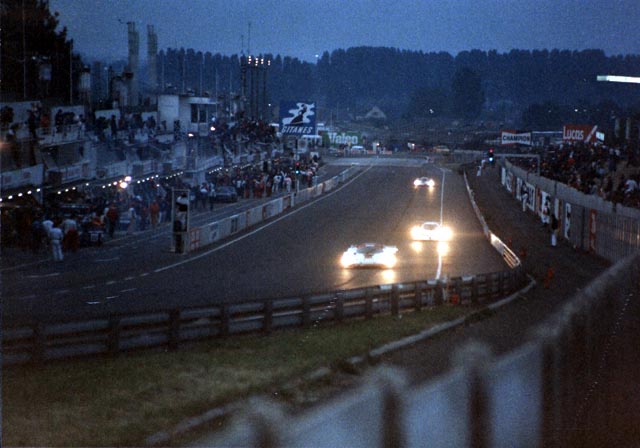 For me, the night at Le Mans is the ultimate motor racing experience, and one which I am not prepared to miss. Not a problem in 1986, as we kipped at the circuit in tents and under cars, but my arrangements for it changed somewhat in the later years, when some of the Tourists found the lure of a hotel bed simply too much!
There we are then, just a few thoughts about my Le Mans "baptism" and a few pictures to keep you going!
Now go to page two to see the pictures added in February 2006!
1
2