LATEST NEWS

22.02.15 - I've now added my videos (hosted on Youtube) for scrutineering plus free practice and 1st qualifying on Wednesday. More to follow.
15.02.15 - OK, it's finally here. Ayse's Le Mans Story 2014. As any regular reader will know, the story is never exactly a rush job, although February is actually earlier than it has appeared in some years! This is actually version 1. Version 2 will have quite a bit of video added, bearing in mind that certain parts of the race aren't documented by photos at all. Watch out for that to be added - hopefully over the next couple of weeks. Click the gif below to go to page 1 of the story.

07.02.15 - I may be a day or two behind the official announcements, but my entry list for Le Mans 2015 is now up.

23.01.15 - Having had a few days off and I'm delighted to say that I've made really good progress with the 2014 story. That probably sounds weird to casual visitors reading this 7 months after the event, but this is something that always takes me a long time - there are always too many other things to do! If it's done before the end of February, I always regard that as early! It's entirely possible that I could have the 'basic' version of the story up by the end of next weekend. The super deluxe version with lots of video will take a bit longer!
14.01.15 - Just 142 days to go now until I head off to France for Le Mans 2015. Ferry is booked, tickets ordered and accommodation also sorted out. Can't wait! In the meantime, I'll be at Silverstone for three days in April for the WEC round (that I had to miss last year!).
28.12.14 - As a precursor to what I hope will be a number of my Le Mans videos finally being made available on the site, I've uploaded my very first video from 1992 onto Vimeo.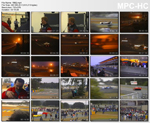 21.04.14 - In the same way as I did last week with my 1988 story, I've now updated my 1989 story as well. Click the animated gif to go take a look....

12.04.14 - So here I am at home, recuperating after my operation, so I thought I'd go back and upload some of my early photos. I updated my 1986 and 1987 stories a few years ago and now I've done 1988, with the original story that I wrote back around the time. A little bit of nostalgia for you! Click the animated gif to go to the page.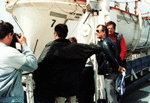 I'm still looking for a 'partner' who might be interested in having banners and links on my pages. I've carried a few banners over the years but those arrangements have now petered out to an extent that they're not really worth me pursuing any more. So if anyone would be interested in advertising their Le Mans or sportscar based website here for a very modest consideration, get in touch.