LATEST NEWS
21.05.13 - Entry list updated - Line-ups finalised at G-Drive/Delta ADR, HMV Status and JMW
19.05.13 - Le Mans raceweek timetable now posted. Including details of the legendary Ten Tenths members meeting on Saturday 22nd June!

17.05.13 - Entry list further updated - very few driver places now still to be filled!
09.05.13 - Driver list further updated - Numerous changes and additions.
See the full list here:-

LE MANS STORY 2012
Yes! It's finished at last! My 2012 Le Mans Story has finally made the light of day!
Click the GIF to go to the story.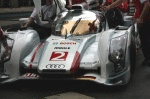 Need Accommodation at Le Mans?
Nico has contacted me about his B&B accommodation now available in old Le Mans town. Take a look.....