Ayse's 'Occasional Blog'
Monday 15th June 2020
So That Was Le Mans... (if only 'Virtually')
So, today is Monday 15th June. Ordinarily right now I would be leaving a small hotel about half an hour outside the centre of Le Mans to go shopping at Auchan. My bags would be packed and we would probably be leaving around midday for the journey to Caen to catch the ferry home. I would also be suffering those first pangs of 'Post Le Mans malaise', the mix of emotions between looking forward to getting home and having to accept the fact that it would be another year before I could do this again. But I'm here at home, tapping away on my keyboard instead. But strangely feeling half of that emotion....
This was to be my first Le Mans since retiring from work. My 35th. There is little point in saying that I was really looking forward to it as I look forward to Le Mans every year. The intervention of Covid-19 has of course not only changed a lot of plans for everybody, but has affected all of our lives in an adverse way while claiming far too many of them as well. In saying what I do, I accept that these feelings are, in a wider context, very shallow but you can only call it as you see and feel it.
This week has been positively weird. Because my trips follow a standard pattern (as anyone who has read my stories since 2010 will know), on any given day I can say pretty accurately what I would have been doing at Le Mans or on the way to or from. The feelings began early last Saturday week as I thought about packing and heading off for the ferry at Portsmouth and have continued through the week until raceday. The change came on Saturday as I tuned into the 'Virtual' 24 Heures du Mans.
I approached this with a large dollop of scepticism as it could never be the same, obviously. But I've been a bit of a sim-racer over the years, in fact I was the 2004 Grand Prix Legends Ten Tenths Friendly Racing League Champion.... I've continued to dabble with GPL (still the greatest sim of them all, 22 years after it was released) but have also driven on Project Cars 1 and 2, RFactor and Assetto Corsa, but my online racing days are well in the past. So I was interested to see just how realistic the virtual race would be. I was expecting crashes, disconnects and latency issues (as I had plenty of experience of those in the past) but the attraction of having so many famous names taking part added a little extra interest. I watched the start and found myself still watching two hours later. By that time I had timing and scoring up and was chatting with people about it on Ten Tenths at the same time. The graphics were really good and the racing was surprisingly exciting with a high degree of driving skill being exhibited by the pros and the pro sim racers.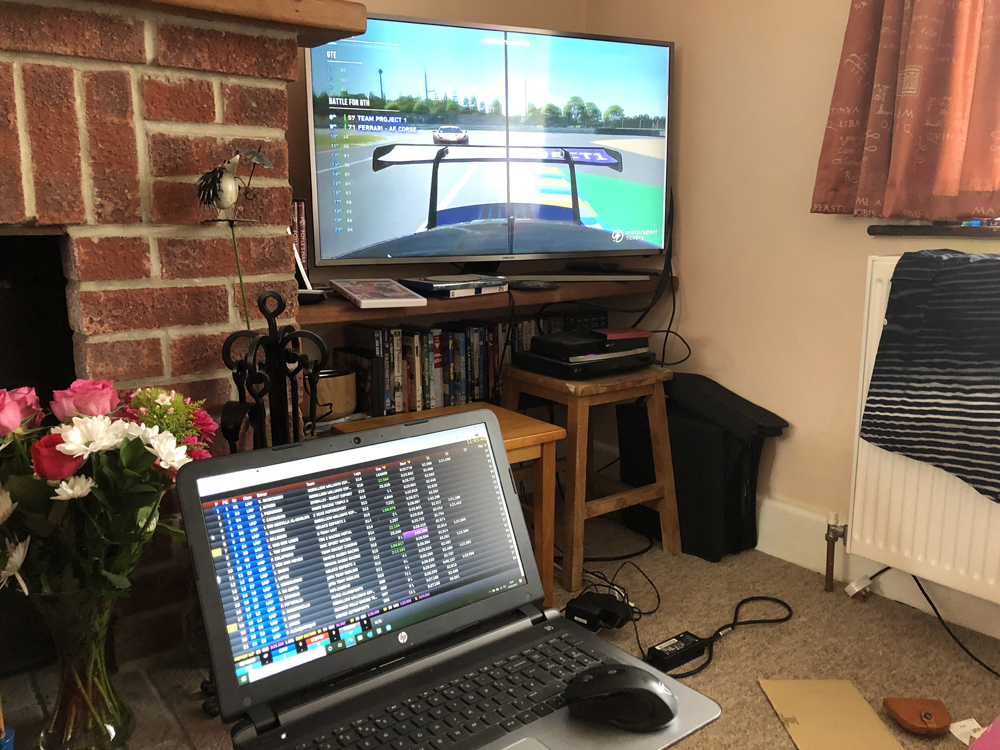 In the end, I watched about 17 hours of the 24. I did go to bed (shock horror!), but woke up for a call of nature at 2.45 am and watched an hour during the night. The only other time I missed was down to trips to the vet regarding our very poorly cat (who is hopefully coming home today after three days and nights in the vet hospital). All in all, I thought it was really terrific. As I've said elsewhere, it did an important thing - it temporarily filled a void, a really big void - and I was grateful for that. The fact that the race was actually really good, particularly the last couple of hours, was a bonus. If we saw a race end like that at the 'real' Le Mans, we would be talking about it for years....
As far as Le Mans 2020 is concerned, I'm fully rebooked for September, ferry and accommodation plus we already have our tickets of course. There seemed to be a great deal of optimism, bordering on near-certainty throughout the virtual race that Le Mans will take place in September. The big question those for those intending to be there is - will they let us attend? All the money seems to be on the race going ahead but with a drastically reduced attendance - so how would that be managed? Essential personal only? A limited number of fans? Members only? I've no idea. However if the attendance is reduced, there can be little optimism that we will make it to the event from here in the UK where the effects of Covid-19 have been so dramatically bad. But we will see, I guess.
I also learned last week that an old friend, Paul Truswell, 'Trussers' from Radio Le Mans is currently seriously ill. This came as quite a shock as I would have been hoping to see him during Le Mans week. Having recently lost a dear 'Le Mans' friend, I send Paul my best wishes for a full and speedy recovery.